Here's how you can disassemble laptop and replace or upgrade memory aka RAM in a Toshiba Portege M400 Tablet PC. As you see on the picture below, there is no access to the RAM slots on the bottom of the laptop. Why? Because both RAM slots are hidden under the keyboard.
According to Toshiba specifications a Toshiba Portege M400 Tablet PC can handle up to 4GB memory total. That means you can install up to 2GB memory module into each slot. Toshiba Portege M400 configured with PC2-5300 DDR2 667MHz memory modules.
You can easily upgrade a Portege M400 laptop to 4GB yourself; all you need is a couple of screwdrivers, two 2GB memory modules and 15 minutes of your time.
Before you start turn off the laptop, unplug AC adapter and remove the battery.
Now I'm going to remove the keyboard.
Carefully insert a small flathead screwdriver under the keyboard bezel and lift it up. Continue removing the bezel with fingers.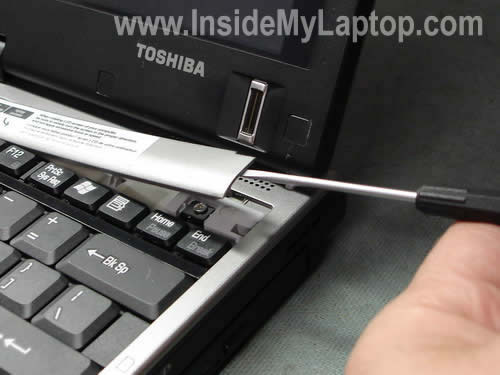 The keyboard bezel has been removed.
Now remove two screws and release a small plastic latch in the middle.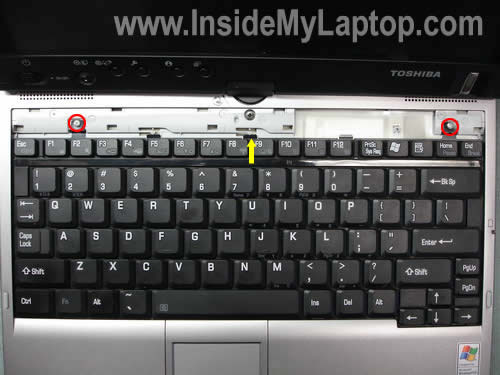 Lift up the keyboard as it show on the picture and place it upside down on the palm rest.
You'll find two covers under the keyboard. Both memory modules are hidden under the right cover. Remove two screws and remove the cover.
Both RAM slots are occupied with 512MB memory modules. I'm going to remove both 512MB modules and replace them with two 2GB modules.
Spread latches on both sides with thumbs.
The memory module will pop up at a 30 degree angle.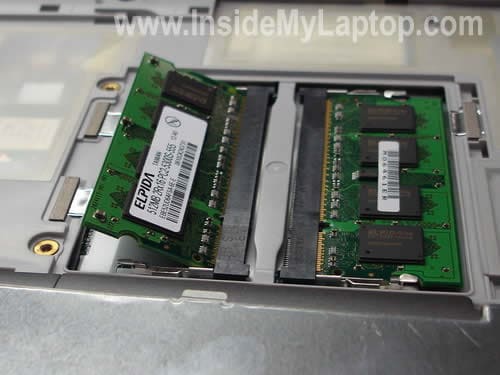 Carefully pull the memory module by the edges and replace it with a new one. Repeat three last steps with the second memory module.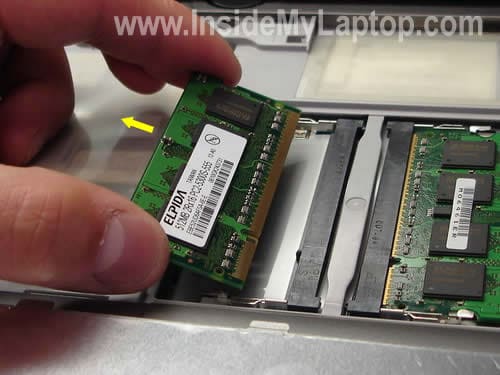 Did I help you $ave some money? Please consider making a donation. THANK YOU!