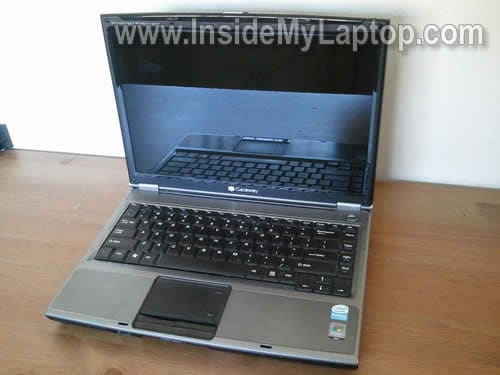 In this guide I'll be replacing failed LCD screen in a Gateway MT3000 series laptop.
To be precise, I'm fixing a Gateway MT3707 laptop which has a failed backlight lamp inside the LCD screen.
Problem description: The laptop starts with reddish image on the screen and after a few seconds the screen light goes completely off. The image is still on the screen but it's very dark. The reddish image indicates a problem with the backlight lamp. I tested laptop with a new backlight lamp and it works fine. In this case the entire LCD screen has to be replaced.
Turn off the laptop, unplug the AC adapter and remove the battery.
STEP 1.
There are six screws securing the screen bezel. These screws hidden under six rubber plugs.
Remove all six plugs with a sharp object.
Remove six screws securing the screen bezel.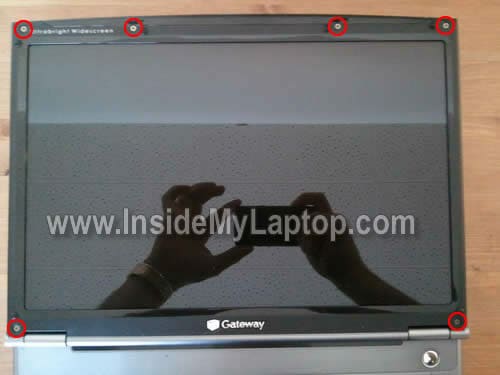 STEP 2.
Start separating the bezel from the screen cover with your fingers.
On the bottom the bezel is glued to the LCD screen with sticky tape. Carefully separate the bezel from the screen.
STEP 3.
Remove the screen bezel.
STEP 4.
The screen inverter mounted below the LCD screen.
Carefully disconnect the screen backlight cable from the right side of the inverter board.
If you are replacing the inverter board, you'll have to disconnect one more cable from the other side of the inverter.
Now you can replace inverter with a new one.
STEP 5.
Remove four screws from left and right side of the LCD screen (two screws from each side). These screws securing the screen to the hinge brackets.
Carefully separate the LCD screen from the cover and place it on the keyboard.
STEP 6.
Remove tape securing the video cable.
Disconnect the video cable from the LCD screen connector.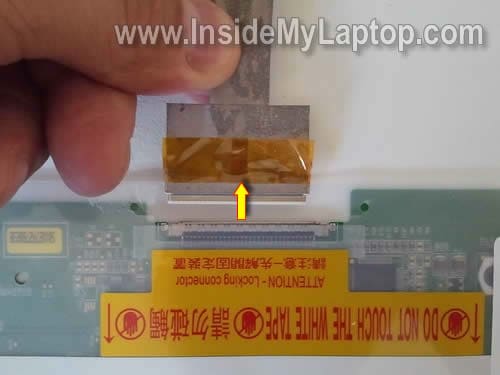 Now you can remove the damaged LCD screen from the laptop.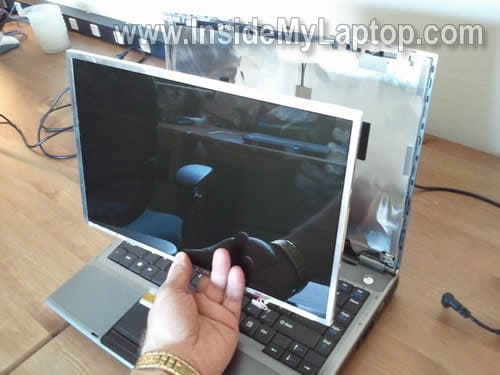 You can find a new replacement screen by the LCD screen model number. This number is printed on the screen sticker.
In my case the LCD screen model number is LTN141W1-L03.
This screen is available here. If you have a different screen, just search by the model number.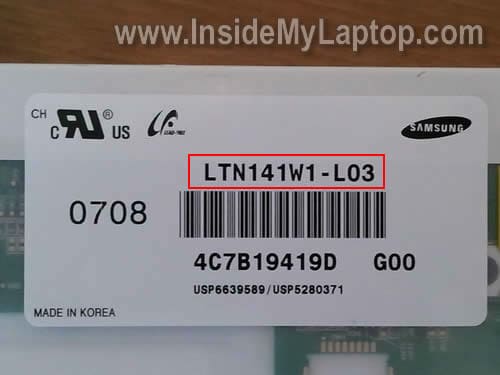 Did I help you $ave some money? Please consider making a donation. THANK YOU!