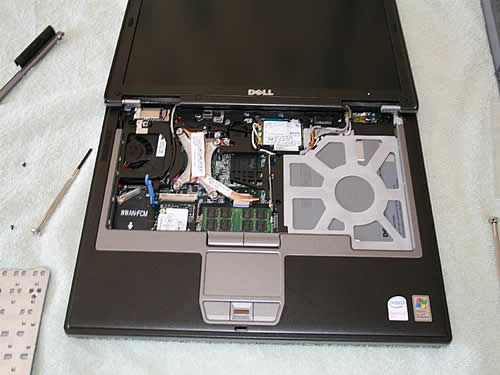 This guide explains how to access both RAM sockets and replace memory in a Dell Latitude D630 laptop. This set of instructions is very similar to the memory upgrade tutorial I just posted for a Latitude D610 laptop.
How much memory can you install into a Dell Latitude D630?
According to the Dell specifications this laptop will take up to 8GB RAM total. You can install up to 4GB RAM into each socket. 4GB RAM modules are not available at the time of writing this post. At this time you can install maximum 2GB module into each socket. I was wrong, I found a 4GB RAM module made by Kingston (part number: KTT667D2/4G) but it's only $395. LOL.
There are two sockets in this computer available for memory upgrades.
Socket B can be accessed through the hatch on the bottom.
Socket A is hidden under the keyboard. Yes, you'll have to remove the keyboard in order to access this socket.
What memory type should you use?
You should use DDR2 667 (PC2 5300) SODIMM modules for notebook computers.
Can you install different size RAM modules into the laptop?
Yes, you can. For example, you can have a 1GB module in the socket A and install a 2GB module into the socket B. Your laptop will see 3GB total.
But if you want your memory to operate in dual-channel mode (better performance), you'll have to install identical size and type memory modules into both sockets.
Did I help you $ave some money? Please consider making a donation. THANK YOU!