In this guide I explain how to replaced LCD screen on Dell Inspiron 1750 laptop.
It's very easy to take apart the display panel on a Dell Inspiron 1750 and the entire replacement process took me about 30 minutes.
Before you start, make sure the computer is turned off and battery removed.
STEP 1.
The display bezel secured to the back cover by hidden plastic latches, there are no screws.
Insert your fingers under the bezel somewhere in the webcam area.
Wiggle the bezel and separate it from the display cover.
STEP 2.
Continue separating the bezel on the top of the display assembly.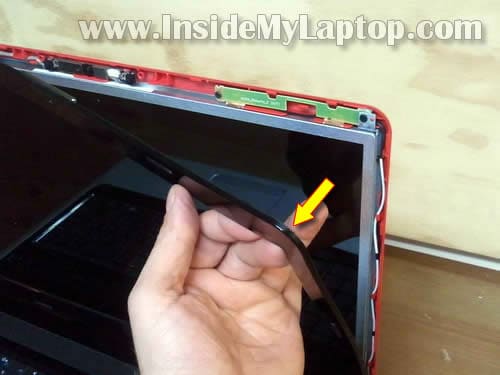 STEP 3.
Move to the bottom part of the bezel.
Lift up the bezel and separate it from the display cover in the hinge area.
STEP 4.
Remove the bezel.
STEP 5.
There are eight screws securing the LCD assembly to the display cover.
Remove two screws on the top of the display.
Loosen (do not remove completely) six screws on the bottom of the display.
STEP 6.
Carefully separate the back cover from the screen just enough to access screws on side mounting brackets.
Remove two screws from the right bracket.
STEP 7.
Remove two more screws on the left bracket.
STEP 8.
Now you can place the LCD face down on the keyboard.
STEP 9.
The video cable connector is located on the back.
STEP 10.
Remove sticky tape securing the video cable connection.
Unplug the video cable from the screen.
STEP 11.
The LCD screen is ready for the replacement.
In my previous post I explain how to replace laptop keyboard.
You can support my work!
If you appreciate my work and find this information useful, please support this site. Thank you!