In the following guide I will explain how you can replace broken display hinges on Dell Latitude C640 and Latitude C540 series laptops. Replacing and removing hinges is not a difficult task if you are careful and pay attention to details. I'm not sure if you can use the same hinges for both Latitude C640 and C540 but the following removal and replacement instructions should be the same for both models.
1. Find new replacement hinges.
2. Follow the laptop disassembly instructions below.
Proceed on your own risk and do not blame me if you destroy the laptop.
Before you start, remove the laptop battery.
Remove five screws securing the keyboard. These screws are marked with a letter K stamped on the base.

Remove five screws securing the display hinges. Three screws on the left side and two screws on the right side.
Carefully lift up and remove the keyboard bezel with a flathead screwdriver or another sharp object.
Lift up and remove both hinge covers.
Lift up the keyboard from the base. Be careful, the keyboard is attached to the motherboard with a flat ribbon cable. Disconnect the keyboard cable and remove the keyboard.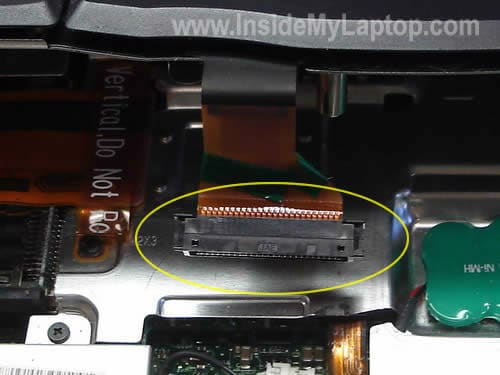 The keyboard cable had been disconnected from the motherboard.
Remove four screws securing the video cable.
Carefully disconnect the video cable from the motherboard by the yellow belt on the connector.
Remove six rubber screw seals with a sharp object. Remove six screws located under these seals.
Insert your fingers between the display bezel and the LCD screen and carefully separate the bezel from the display. Keep separating the bezel from the display with your fingers until you can remove it. Remove the bezel.

Remove two screws securing the LCD screen to the display hinges. You'll find two screws on each side of the screen.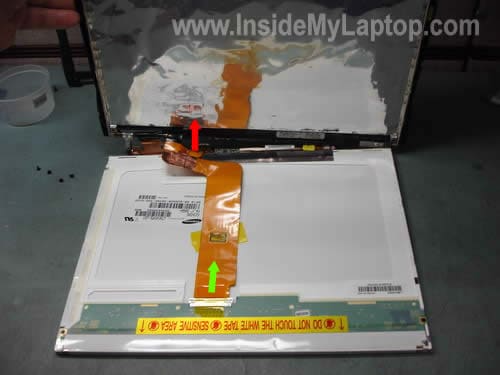 Remove the LCD screen from the display cover. Be careful the screen is attached to the video cable.
Unplug the video cable from the LCD screen (Green Arrow).
Unplug the video cable from the inverter board (Red Arrow).
Remove the screen.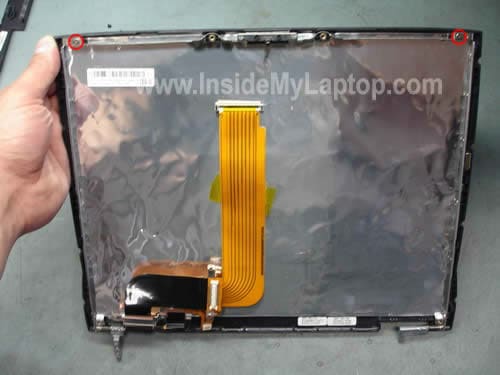 After the LCD screen had been removed you can remove two screws securing both display hinges.
Remove both hinges from the display cover. Now you can replace both hinges, or just a broken one.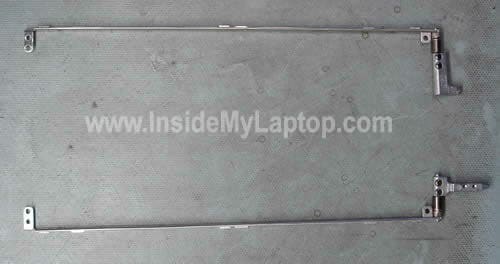 Did I help you $ave some money? Please consider making a donation. THANK YOU!