In this guide I explain how to remove LCD screen from a HP Pavilion dv5 laptop.
In order to remove the screen, you'll have to separate the display panel from the laptop base.
To remove the display panel, follow steps 1-21 in this HP Pavilion dv5 disassembly guide.
OK, let's assume the display panel remove and now it's time to take it apart.
STEP 1.
You'll find two screw covers on the bottom part of the display assembly.
Remove both screw covers with a sharp object.
After that remove two screws.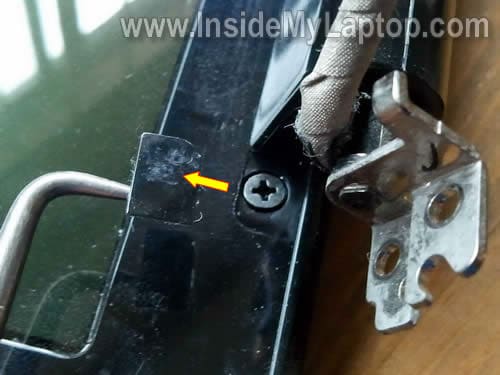 STEP 2.
Start separating the screen bezel with your fingers.There are a few hidden plastic latches securing the bezel to the screen cover.
Insert fingers between the bezel and screen and pry the bezel.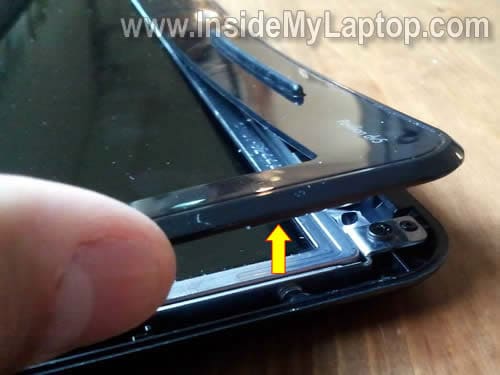 STEP 3.
Continue removing the screen bezel.
STEP 4.
The screen bezel has been removed.
STEP 5.
Disconnect the screen backlight cable from the right side of the inverter board.
The inverter screen mounted below the screen.
Remove four screws securing the LCD screen assembly to the back cover.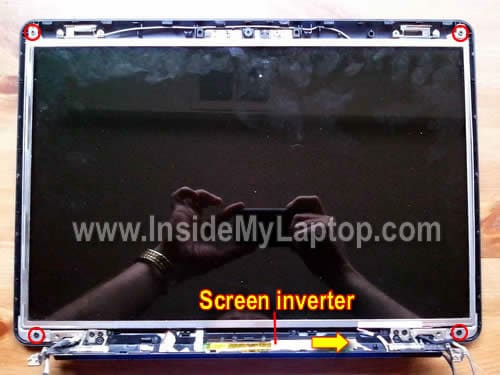 STEP 6.
Carefully separate the LCD screen from the cover and place it face down on the table.
Now you can disconnect the video cable from the connector on the back side of the screen (yellow arrow).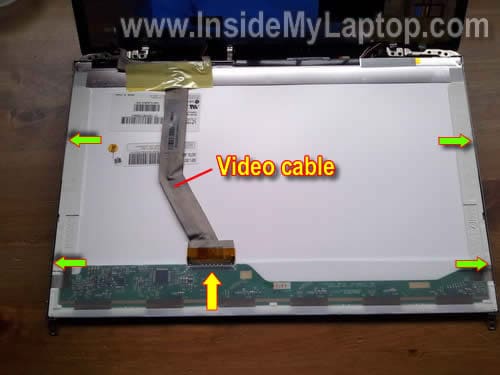 Finally, remove two screws from each side of the screen (green arrows).
These screws securing the LCD screen to the hinge mounting brackets.
Now you can replace the LCD screen with a new one if needed.
Here you can find a new replacement screen for HP Pavilion dv5 laptop.
Did I help you $ave some money? Please consider making a donation. THANK YOU!