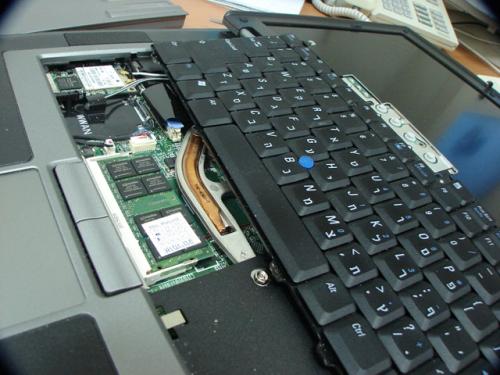 This tutorial shows how you can remove the keyboard and access the internal RAM slot in a Dell Latitude D820 notebook.
The keyboard removal procedure will not take long.
1. Remove the keyboard bezel with a flathead screwdriver.
2. Remove three screws securing the keyboard
3. Unplug the keyboard cable from the motherboard and remove the keyboard.
The internal RAM slot is located under the keyboard, right above the touch pad buttons.
Also, you can use this tutorial for replacing the following internal components:
1. Bluetooth module witch is located under the keyboard bezel.
2. Wireless card, witch is located under the keyboard in the lower left corner.
3. WWAN card (if you have it installed), witch is located under the keyboard on the right side from the wireless card.
If you are looking for more detailed disassembly instructions, I would suggest using this Dell Latitude D820 notebook service manual.
I just added detailed instruction for updating RAM in a Dell Latitude D830 which is very similar to Latitude D820.
Did I help you $ave some money? Please consider making a donation. THANK YOU!