In this guide I explain how to remove the keyboard and access both memory modules in a Sony Vaio PCG-V505 series laptop. The whole process will not take more than 10-15 minutes and can be done even by an inexperienced user. In one of the previous posts I explained how to remove and upgrade the hard drive in the same Sony Vaio PCG-V505 laptop.
Before you start do not forget to turn off the laptop and remove the battery.
STEP 1.
Remove one screw securing the keyboard. This screw is located between the lock/unlock and release latches.
STEP 2.
Insert a small flat head screwdriver between the keyboard and base. Carefully lift up the keyboard as it shown on the picture below.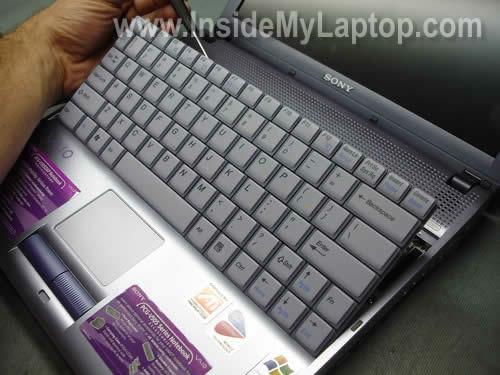 STEP 3.
Move the keyboard and place it on the display panel so you can access components underneath.
Under the keyboard you'll find both memory (RAM) modules and RTC (CMOS) battery.
Sony Vaio PCG-V505 laptop can handle up to 1GB memory total. You can install up to 512MB memory stick into each slot.
You should use PC2100/PC2700 DDR SODIMM memory modules.
If your laptop looses date and time each time you restart it, apparently it's time to replace the RTC (CMOS) battery. You can easily unplug the RTC battery from the motherboard and replace it with a new one.
STEP 4.
Before you remove the keyboard, you'll have to unlock the cable connector on the motherboard and release the cable.
On the picture below you can see the cable connector in the locked position.
Unlock the connector and release the keyboard cable.
Now you can remove the keyboard and replace it with a new one if needed.
You can find a new replacement keyboard here.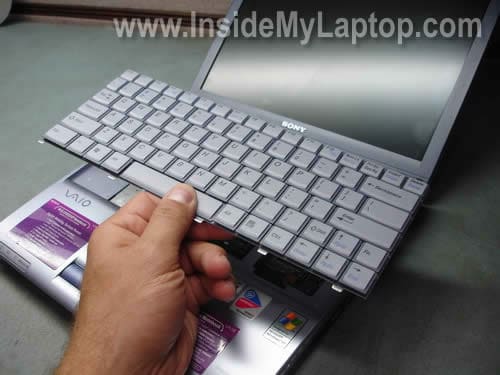 Did I help you $ave some money? Please consider making a donation. THANK YOU!