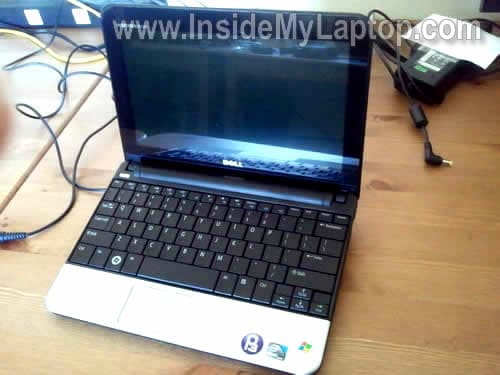 In the following guide I explain how to remove the hard drive from a Dell Inspiron Mini 10 (1010)  netbook.
There is no easy access to the hard drive from the bottom of the netbook. The hard drive is mounted inside the case, under the keyboard.
You can use this guide for removing/replacing the keyboard and removing/replacing/upgrading the hard drive.

STEP 1.
Turn off the laptop, unplug the AC adapter and remove the battery.
Remove three screws from the bottom. These screws secure the keyboard.
STEP 2.
Insert a thin object between the top side of the keyboard and laptop case.
Lift up the keyboard and continue removing it with your fingers.
STEP 3.
Lift up the keyboard as it shown on the picture below and flip upside down on the palm rest.
STEP 4.
Under the keyboard you'll find the hard drive assembly and wireless card.
It's not necessary to disconnect the keyboard if you are replacing the hard drive or wireless card.
If you would like to replace the keyboard, you'll have to unlock the connector and release the cable.
In order to unlock the connector, very carefully move the brown lock about 2 millimeters towards the touch pad.
The lock must stay attached to the connector base.
When the connector unlocked, you can pull the cable and remove the keyboard.
Looking for a new keyboard for your Dell Inspiron Mini 10 netbook? Search here.
STEP 5.
Remove one screw securing the hard drive assembly.
STEP 6.
Slide the hard drive assembly to the left and disconnect it from the motherboard.
STEP 7.
Remove the hard drive assembly.
Now remove four screws securing the hard drive to the caddy and separate the hard drive from the caddy.
In my case I had a regular 160GB 2.5″ SATA hard drive installed. This hard drive can be replaced with a larger 2.5″ SATA hard drive.
Did I help you $ave some money? Please consider making a donation. THANK YOU!