In the following guide I will open up the display panel and remove LCD screen with inverter board from a Sony Vaio PCG-K series laptop. As an example I'll be taking apart a Sony Vaio PCG-K33 laptop. These instructions should work for many other laptops in PCG-K line.
By the way, in one of the previous posts I explain how to access the power jack
.
There are four screws securing the display bezel (mask) to the LCD cover. These screws are hidden under four rubber covers. Two black covers on the top of the bezel (marked with yellow squares) and two white covers (marked with red squares).
Remove two white covers on the bottom.
Remove two black covers on the top.
Remove four screws found under the covers.
Now you can start removing the display bezel as it shown on the picture below. Carefully release the bezel from under the hing cover with your fingers.
Continue removing the display bezel.
Finally, the display bezel has been removed.
The screen inverter is located below the screen. There are no screws securing the inverter in this model. The inverter board simply glued to the screen cover.
Carefully unplug cables from both sides of the inverter.
The inverter board has been removed.
Now I'm going to remove the LCD screen.
Remove six screws securing the display assembly to the cover.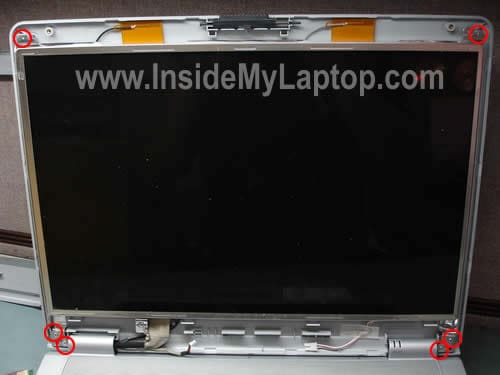 Now you can separate the screen assembly from the cover and access the LCD cable. The LCD cable has to be unplugged from the screen.
Remove the yellow tape. Carefully push on latches securing the LCD cable and pull the cable from the connector.
After that you can separate the display assembly from the cover. As you see on the picture below, the mounting brackets are still attached to the screen. In order to remove the brackets, simply remove four screws securing them to the LCD screen.
Finally, when the LCD screen is removed, you can replace it with a new one if needed.
Did I help you $ave some money? Please consider making a donation. THANK YOU!
Donate via PayPal