In the following guide I explain how to remove and upgrade memory in a Toshiba Satellite M100/M105 laptop. I will upgrade memory from 512MB (default size) to 2GB. This model has two memory slots. One of the memory slots can be easily accessed from the bottom but another one is hidden under the keyboard.
Let's start with the hidden internal memory slot. In order to access the hidden slot we'll have to remove the keyboard.
Make sure the laptop is turned off and the battery is removed.
STEP 1.
Insert a small flat head screwdriver between the speaker cover and laptop base. Lift up and remove the speaker cover.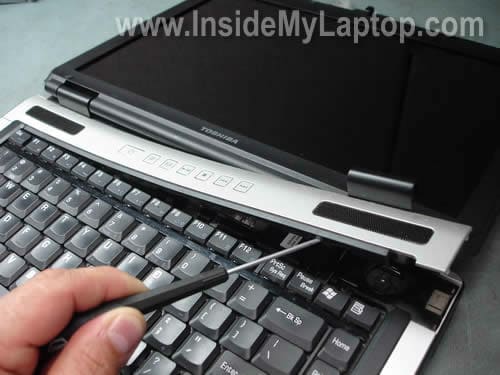 STEP 2.
Remove two screws securing the keyboard. Release the latch located above the key F8 and lift up the keyboard.
STEP 3.
It is not necessary to disconnect the keyboard while accessing the internal memory slot. Simply turn the keyboard upside down and place it on the palm rest.
The internal memory slot is hidden under a metal cover. Remove two screws and remove the cover.
STEP 4.
Remove the original memory module installed into the internal slot. In my laptop I had a 512MB module installed.
STEP 4.
Install a new 1GB memory module into the internal slot.
Install the metal cover, keyboard and speaker cover.
Now we'll move to the second slot located on the bottom of the laptop.
STEP 5.
Remove one screw securing the cover. Remove the cover.
STEP 6.
In my laptop this memory slot was not occupied.
Install another 1GB module into the bottom slot.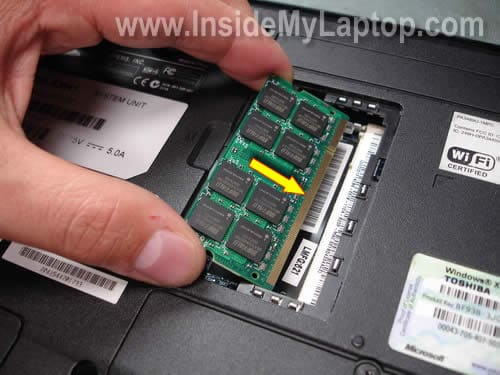 That's it!
Both memory modules should be detected and configured automatically as soon as you turn on the laptop. You can check memory size in the BIOS setup menu or System Properties.
Toshiba Satellite M100/M105 will take up to 2GB memory total. You can install up to 1GB memory module into each slot. Use DDR2 PC-5300 SODIMM modules. You can install faster memory, for example DDR2 PC-6400 but it will slow down and run at PC-5300 speed.
UPDATE: I checked some memory sellers recently and they say that Satellite M100/M105 can handle up to 4GB RAM. If that's true, you can install up to 2GB memory module into each slot.
Have you been able to install 4GB into your Satellite M100/M105?
Did I help you $ave some money? Please consider making a donation. THANK YOU!
Donate via PayPal