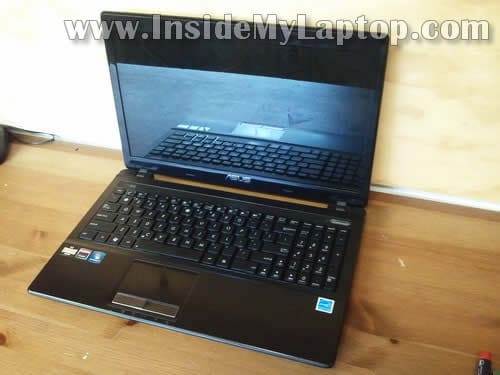 In this guide I explain how to replace LCD screen on an Asus K53U laptop.
This is my second guide for this model. In the first guide I explained how to disassemble Asus K53U laptop body
and access internal components.
This guide might fit some other Asus models. If it works for you please mention the model number in the comments.
Make sure the laptop is turned off and battery REMOVED before you start taking it apart.
STEP 1.
There are two rubber screw covers located in the lower left and right corners of the screen bezel.
STEP 2.
Remove both screw covers with a sharp object. Glue them (they have stick tape on the bottom) somewhere on the screen bezel so covers don't get lost during the disassembly process.
Remove both screws found under the covers.
STEP 3.
Stat separating the screen bezel from the display back cover.
Insert your fingers between the bezel and screen. You'll have to wiggle the bezel in order to unlock hidden latches securing it to the display back cover.
STEP 4.
Also the guitar pick (or any other piece of plastic) can be very useful. Insert it between the bezel and back cover and slowly move along the side.
STEP 5.
When the screen bezel separated from the back cover on the top, move to the lower part.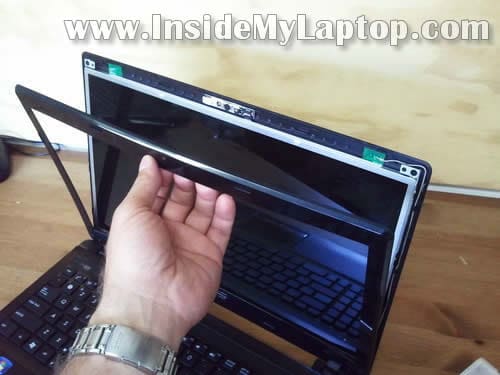 STEP 6.
Insert a sharp object under the hinge cover and lift it up.
The hinge cover is part of the screen bezel.
STEP 7.
Remove the screen bezel.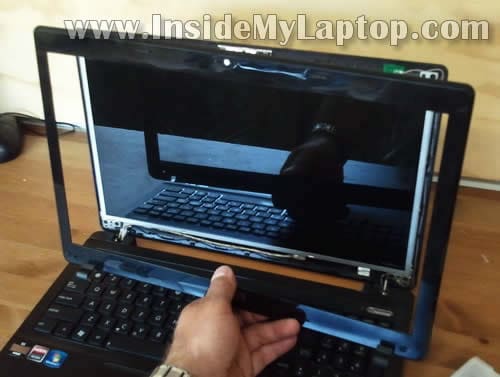 STEP 8.
Remove two screws securing the screen mounting brackets on the top.
STEP 9.
Loosen (do not remove completely) for screws securing the screen mounting brackets on the bottom.
STEP 10.
Now you should be able to separate the screen from the back cover just enough to remove screws on the side of the screen.
Remove four screws on the right side of the screen.
STEP 11.
Remove four more screws on the left side of the screen.
STEP 12.
Place the screen face down on the palmrest.
STEP 13.
Now we'll have to disconnect the video cable.
STEP 14.
Remove clear tape securing the video cable connector.
STEP 15.
Unplug the video cable connector from the screen.
STEP 16.
Remove the laptop screen. Now it's ready for the replacement.
The best way to find a new compatible LCD screen is searching by the model number from the original screen.
In my Asus K53U laptop I had the following screen installed: N156BGE-L21 Rev. C1.
Did I help you $ave some money? Please consider making a donation. THANK YOU!
Donate via PayPal