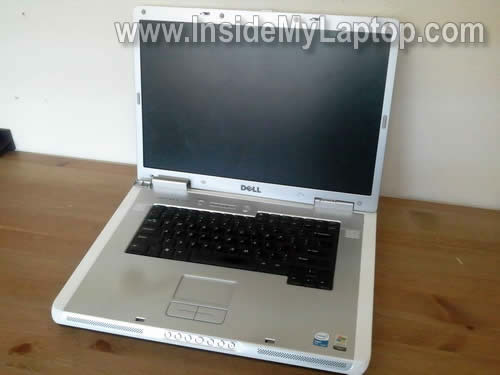 In this guide I explain how to fix damaged hinge in a Dell Inspiron E1705 (aka Inspiron 9400) laptop.
Today one of my customers brought me a Dell Inspiron E1705 laptop with the display completely separated from the base on the left side.
At first I though the hinge was broken, the display cover damaged and the laptop needed an expensive repair but lately I found the damage wasn't that bad.
Here's how I fixed the damaged hinge.
Before you start, make sure the laptop is turned off and the battery removed.
First of all, I removed the screen bezel.
You'll find step-by-step bezel removal instructions in this display disassembly guide for Dell Inspiron E1705/9400 laptops.
After the bezel was removed,  I was able to take a closer look at the damage and… i didn't find any!
The hinge wasn't broken and the display cover was in a good shape too.
Apparently, the hinge screws got loose and fell off and because of that the hinge separated from the display cover.
I was able to rotate the hinge into normal position with a small screwdriver.
I decided to remove the power button cover to take a closer look at hidden part of the hinge and make sure the video cable is not damaged.
I explained how to remove the power button cover in another Dell Insprion E1705 disassembly guide.
In my case  the hinge wasn't broken but it was a little bit loose.
I tightened two screws to secure the hinge.
By the way, if in your laptop the hinge is broken, simply remove these two screws and replace the hinge with a new one.
After that I connected the display panel back to the hinge and secured it with one screw (M2.5×5 mm screw).
I examined the video cable very closely and didn't find any damage.
Make sure the video cable is routed correctly, as it shown on the picture below.
At the next step I attached the screen bezel back to the display and secured it with eight screws.
Finally, I covered all display screws with rubber cups and installed the power button cover.
The repair is done!
Did I help you $ave some money? Please consider making a donation. THANK YOU!
Donate via PayPal