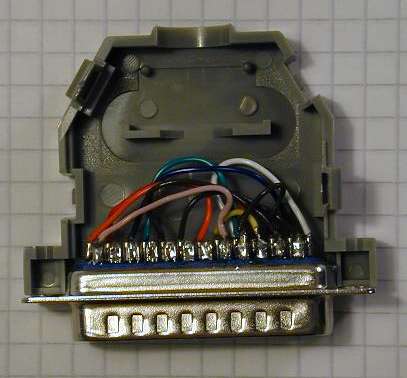 These instructions explain how you can clear the BIOS password from older Toshiba laptops.
The article is written in German so I'll ad some comments in English.
In order to clear the BIOS password you'll have to create a plug for the laptop parallel port. You can make the plug from a parallel port connector for printers, known as DB25. Find an old parallel port connector, take it apart and solder pins inside the connector as described below.
Solder the following pins together:
Pins 1,5,10
Pins 2,11
Pins 3,17
Pins 4,12
Pins 6,16
Pins 7,13
Pins 8,14
Pins 9,15
Pins 18 through 25. The article says connect pin 18 to 25 but on my plug I connected pins 18,19,20, 21,22,23,24,25 together and it works great.
After all needed pins were connected, assemble the connector.
Here's how you clear the BIOS password. Turn off the laptop, plug the connector into the parallel port on the back or side of your laptop, turn on the laptop while the connector is still plugged. The laptop will boot into the operating system without asking the BIOS password.
This method should work for the following Toshiba laptops:
Libretto 50-110, Portege 610-7220, Satellite 100-1800, Satellite 2060-5200, Satellite A10, A20, A40, Satellite Pro 400-6100, Tecra 500-9100, Tecra A1, A2, TE200, TE2100, Qosmio E10 and some other older Toshiba laptops.
This method will not work for the following Toshiba laptops:
Portege A100, M100, M200, R100, Satellite M30, Satellite Pro M10, M15, Tecra M1 and M2, Satellite 1905, 1955, A30, A70, A75, M30X, M35X, P10, P15, P25 and some other older laptops.
I don't know all Toshiba models you can use this plug for, but if you have an older Toshiba laptop this method is worth trying.
UPDATE: All owners of newer Toshiba laptops should read this post. My Toshiba laptop displays Password= prompt on startup
Did I help you $ave some money? Please consider making a donation. THANK YOU!