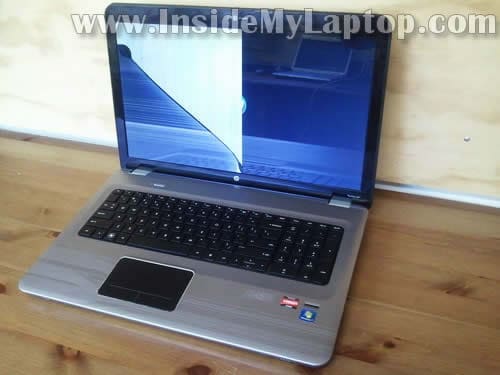 On this page you'll find complete disassembly instructions for a HP Pavilion dv7 laptop.
This is my second guide for HP Pavilion dv7 laptop.
In this particular case I'm taking apart a HP Pavilion dv7-4177NR model.
I believe this guide should work for the following series: HP Pavilion dv7-3000 and dv7-4000.
READ THIS: I found that HP Pavilion dv7 laptops come in different body types. If your laptop doesn't look like one shown in this guide, check out my first HP Pavilion dv7 disassembly guide (for dv7-1000 series) or my third HP Pavilion dv7 disassembly guide (for dv7-6000 series).
As you see this laptop has a cracked screen. My target is replacing the damaged screen but I'll do a few extra steps and show how to disassemble the entire laptop.
It's not easy to replace the LCD screen on this HP laptop. In order to do so it's necessary remove the laptop palmrest assembly (STEPS 1-19), separate the display panel from the laptop body (STEP 20-25) and only after that disassemble the display and replace the screen (STEP 33-48).
Also, I show how to remove the laptop motherboard and access the cooling fan (STEPS 26-32) but it's not necessary to go though these steps in order to replace the screen.